What is the difference between Ddrops and other vitamin D supplements?
March 7, 2017
Vitamin D is probably the most talked-about vitamin these days, and for good reason when you consider its multiple health benefits. You can purchase vitamin D as either vitamin D3 or vitamin D2. If you have ever gone shopping for vitamin D products, either online or at a brick-and-mortar store, you may have felt overwhelmed by the number of options available to you.
To help you decide what's best for you and your family, we've highlighted some of the similarities and differences between various types of vitamin D supplements.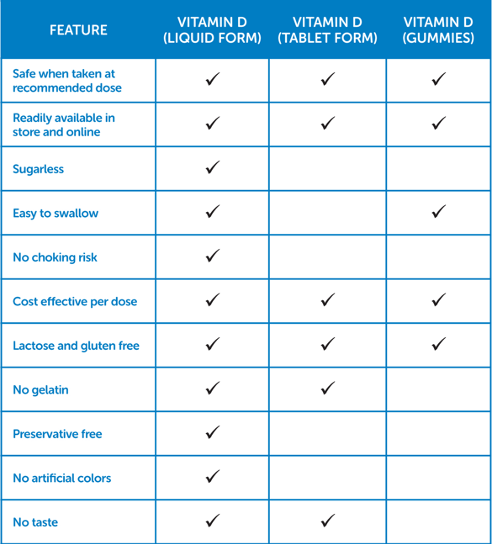 Ddrops products are safe, readily available, and free of lactose, gluten, gelatin, flavors, artificial colors, and preservatives. Other vitamin D3 products of the same form may differ and changes may occur without notification from the manufacturers. Always read labels carefully before purchasing and keep instructions and packaging after you purchase your product for reference.
Reminder: Liquid Ddrops products usually come in very small bottles, but don't let that fool you. Since the dose is just one drop per day, you need to look at how many drops are available within the bottle. Comparing the price per dosage will give you a better idea of what you are paying for.