Product & Usage Information
Baby Ddrops® Vitamin A+D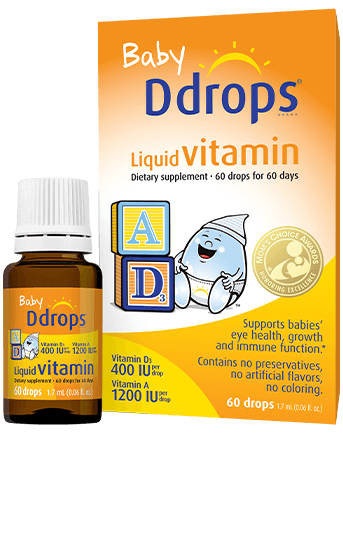 How to use Baby Ddrops® Vitamin A+D
Instructions
For infants less than 1 year: Give one drop daily or as directed by a health care professional.
Turn the bottle completely upside down. There is no need to shake the bottle, as the drop will fall out by itself. In a few seconds, a drop will fall from the spout at the top of the bottle.
Put one drop onto a mother's nipple or a clean surface, such as a washed finger, and allow baby to suck for at least 30 seconds. Do not touch the dropper with finger or mouth. Alternatively mix one drop daily with milk or other food.
Put the cap back on the bottle and store the bottle in an upright position.
Once opened, the product should be used within the number of daily servings indicated on the label.
Ddrops® can be given without a prescription. It is important to understand the use of this product. It may also be important to consult your health care provider (general practitioner, nurse, pharmacist, dietician) if you need more information. If you are already using other vitamin supplements that contain vitamin D, talk to your health care professional before using these Ddrops®.

Correct Incorrect Store bottle upright and between 40° & 85°F.
Why Baby Ddrops® Vitamin A+D
The things that matter most to you and your baby
Pure & Natural Ingredients
Made with naturally sourced Vitamin D, Vitamin A and fractionated coconut oil.
Does not contain artificial preservatives, flavors, or colors.
Easy to Use
Just one drop provides the daily recommended vitamin A+D intake for your little one.
No fuss and mess of measuring devices or syringes.
Trusted Brand
Clinically studied in over a dozen independent clinical trials.
Ddrops global award-winning products undergo third-party laboratory testing, are certified NSF, Mom's Choice Gold Award Recipients and Parent Tested Parent Approved. Click here to learn more about our awards.
Allergy Friendly
Free from all 8 of the most common allergens such as corn, egg, fish, gluten, lactose, dairy, casein, peanuts, shellfish, soy, starch, sulphites, wheat or yeast.
About the EuroDdropper®
Patented technology designed to ensure safe and effective dosing
Patented technology

Each bottle of Baby Ddrops® features a Euro Ddropper® dispenser that precisely dispenses one drop, 0.028 mL, at a time. The Euro Ddropper® acts as an orifice reducer to limit the amount of liquid dispensed, minimizing the risk of spilling or leaking.

Baby Ddrops® is dispensed onto a clean surface, such as mother's nipple, a clean finger, or food. The drop is then taken or licked from the clean surface. It is preferably not dispensed directly into the mouth. This allows the Euro Ddropper® to remain free of contamination through contact with the mouth.
Daily dose in just one drop

Baby Ddrops® is NOT administered as 1 mL with a bulb-style dropper as many other liquid vitamins are. A single drop (0.028 mL) dispensed from the attached Euro Ddropper® provides a single daily dose.
About the number of doses
Packaged to guarantee fresh high-quality ingredients with every drop
Bottle Design

Baby Ddrops® is precisely filled to the number of doses indicated on the label. As such, the bottle may appear only partially filled by volume. The partial bottle fill is an important design feature that encompasses safety and ease of use.
Safety

Baby Ddrops® features a 60 or 90 dose fill to limit the potential magnitude of exceeding the recommended intake. This also helps maintains freshness and purity by reducing the oil's exposure to air.
Ease of use

The doses are contained in a 10 mL glass bottle, thus it appears only 1/4 full. The 10 mL bottle size allows the label to be read more easily than a smaller label on a smaller bottle.