Product & Usage Information
Ddrops® Bb-12 Probiotic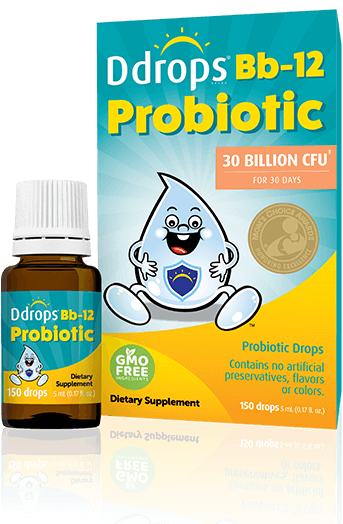 How to use Ddrops® Bb-12 Probiotic
Simple and hassle-free way to administer probiotics
Give 5 drops daily as follows:
Shake well.

Turn the bottle upside down to dispense 5 drops.

Dispense into food, drink or onto a clean surface such as a spoon.

Once the drops are dispensed, return to an upright position and refrigerate.

Once opened, use within 30 days.
Why use Ddrops® Bb-12 Probiotic?
Allergen friendly with a clinically proven blend
Ddrops® Bb-12 Probiotic is specifically designed to support digestive health in babies. Our easy-to-use drop format makes administering Ddrops® Bb-12 Probiotic simple and hassle-free.
1 Billion colony forming units (CFUs) in each daily serving.
Only 2 ingredients: fractionated coconut oil and Bb-12
Clinically proven to improve immune and gastrointestinal health.
Does not contain artificial preservatives, flavors, colors, sugars, or sweeteners.
Does not contain: Dairy, egg, fish, gluten, lactose, peanuts, shellfish, soy, sugar, sulphites, tree-nuts, wheat, artificial preservatives, coloring or artificial flvaors.
Mom's Choice Gold Award Recipient.
Benefits of Ddrops® Bb-12 Probiotic
Helps promote gastrointestinal comfort and reduces colic
Ddrops® Bb-12 Probiotic contains a clinically proven blend of the world's most studied probiotic strain Bifidobacterium animalis Bb-12. When taken daily, these probiotics have been clinically demonstrated to help reduce excessive crying and fussiness in babies and can help support gastrointestinal health and immune health. Ddrops® Bb-12 Probiotic can help infants have more frequent and softer bowel movements and help with increasing daily sleep times.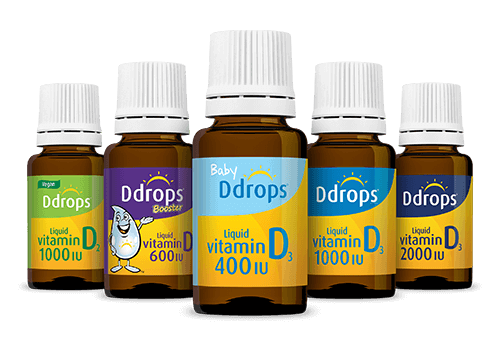 View our full family of products here.
DO NOT USE IF SECURITY SEAL ON BOTTLE IS BROKEN. KEEP OUT OF REACH OF CHILDREN.
TM ©2021 Ddrops Company. All Rights Reserved. Ddrops is a registered trademark of Ddrops Company. The Mom's Choice Awards Honoring Excellence logo is a trademark of the Mom's Choice Awards.
* These statements have not been evaluated by the FDA. This product is not intended to diagnose, treat, cure or prevent any disease