Product & Usage Information
Ddrops® Booster 600 IU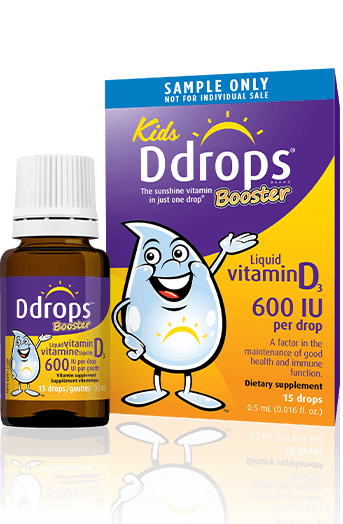 How to use Ddrops® Booster
Instructions
Children over 1 year

Give 1 drop daily or as directed by a health care professional.
Turn the bottle completely upside down. There is no need to shake the bottle, as the drop will fall out by itself. In a few seconds, a drop will fall from the spout at the top of the bottle.
Mix one drop with a favorite food or beverage. Do not allow Euro Ddropper® to come into contact with food or mouth.
Put the cap back on the bottle and store the bottle in an upright position.
Once opened, the product should be used within the number of daily servings indicated on the label.
Ddrops® Booster can be given without a prescription. It is important to understand the use of this product. It may also be important to consult your health care provider (general practitioner, nurse, pharmacist, dietician) if you need more information. If you are already using other vitamin supplements that contain vitamin D, talk to your health care professional before using these Ddrops®.
Why Ddrops® Booster?
The things that matter most to you and your little one
Pure & Natural Ingredients
Made with just two naturally sourced ingredients, pure vitamin D3 and fractionated coconut oil.
Does not contain preservatives, vitamin E, artificial flavors, colors or artificial additives.
Easy to Use
600 IU of vitamin D in just one drop.
No fuss and mess of measuring devices, syringes or sugary gummies.
Trusted
Non-GMO Project Verified.
Ddrops award-winning products undergo third-party laboratory testing, are certified by the NSF, Mom's Choice Gold Award Recipients and Parent Tested Parent Approved. Click here to learn more about our awards.


Vegetarian and Allergy Friendly
Free from all 8 of the most common allergens such as corn, egg, fish, gluten, lactose, dairy, casein, peanuts, shellfish, soy, starch, sulphites, wheat or yeast.
Vegetarian product for "lacto-ovo" vegetarian use.
About the EuroDdropper®
Patented technology designed to ensure safe and effective dosing
Patented technology

Each bottle of Ddrops® Booster features a Euro Ddropper® dispenser that precisely dispenses one drop, or 0.028 mL, at a time. The Euro Ddropper® acts as an orifice reducer to limit the amount of liquid dispensed and to minimize the risk of spilling or leaking.

Ddrops® Booster is dispensed onto food or into a drink. The drop is then taken with the food or drink. It is preferably not dispensed directly into the mouth. This allows the Euro Ddropper® to remain free of contamination through contact with the mouth.
Daily dose in just one drop

Ddrops® Booster is NOT administered as 1 mL with a bulb-style dropper as many other liquid vitamins are. A single drop (0.028 mL) dispensed from the attached Euro Ddropper® provides a single daily dose.
Importance of Vitamin D
Benefits and health authority recommendations
US Health Authorities recommendations

The National Academy of Medicine's Recommended Dietary Allowance (RDA) for vitamin D is 600 IU daily for children beyond 1 year, and adults under the age of 70.1 The American Academy of Pediatrics has endorsed this recommendation.2 Click here for more information.

Vitamin D is important for healthy growth and development in infancy and childhood. Vitamin D supports normal bone growth for all ages, including infants and young children.*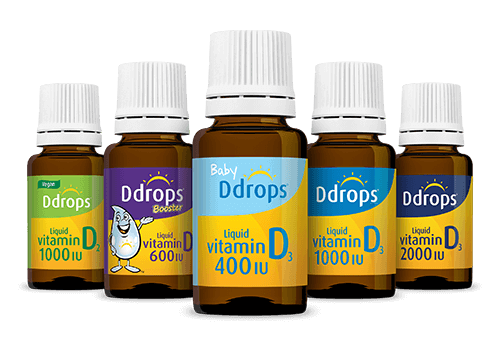 View our full family of products here.
* Do not use if security seal on bottle is broken. Keep out of reach of children. *
* These statements have not been evaluated by the FDA. This product is not intended to diagnose, treat, cure or prevent any disease

1. Institute of Medicine. DRIs for Calcium and Vitamin D. November 30, 2010. Read Report
2. Dietary Reference Intakes for Calcium and Vitamin D – American Academy of Pediatric Statement of Endorsement Nov 2012. Read Report